Guess what? After a 26 year hiatus, I have once again strapped sliding sticks to my feet. Yes, even I could not resist the promise of an epic "Godzilla El Nino". This time around, though, it's hippy all the way: I've traded in the Alpine GS, resort necessary, skis and torture boots of my youth for a free-heel touring setup 'cause, as it turns out, skiing uphill is fun. Despite a lot of local salesperson pressure to invest (heavily) in AT/Radonee gear, I bucked the trend and went old school with backcountry nordic skis mounted with 3-pin bindings. Although, I'll admit, as predicted, there's already been a good bit of gear frustration. Even with a mountain in the backyard, it's nearly impossible to purchase backcountry nordic gear locally – the local selection (we even checked the shops in Santa Fe) was limited to three skis (but nothing wider than 80 mm), one binding, and four boot options, of which only one was stocked in a size that would theoretically fit. Theoretically because all the boots are "unisex" which means my skinny girl foot is going to swim. Availing myself of long distance expertise (gotta love the instant chat) and generous mail order return policies, I settled on Fischer S-Bound 112 skis, with Voile 3-pin cable bindings and Scarpa T4 boots padded out with high volume insoles. I tried Fischer BCX875 boots first, but they were just way too wide and rubbed my ankles raw. Brent also entered the fray, first trying the Alpina Alaska boots (too wide, too soft) and ending up with the Scarpa T4s with the same bindings. For skis, he chose the Madshus Epochs which are a bit skinnier with a little less camber than the Fischers, I think. We tested the gear on a couple of short local jaunts, so I could try and remember the whole turning and stopping thing, then we headed north for the long Thanksgiving weekend to take advantage of the early snow pack up on the Wolf Creek Pass. It was a foggy, snow-showery weekend, which meant less than ideal driving conditions, but a nice continual supply of fresh powder.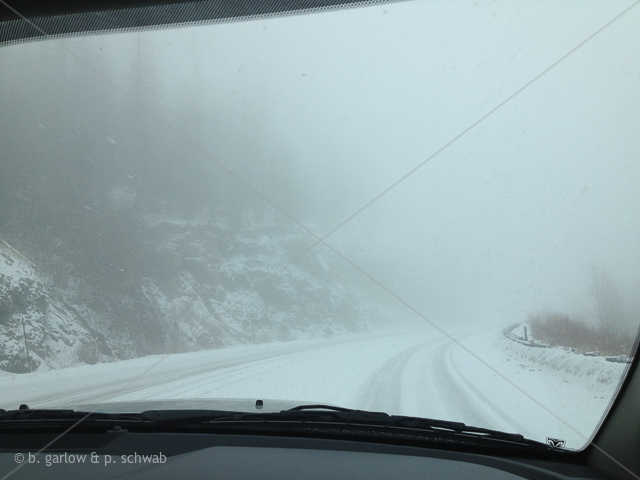 We had a blast polishing our kicks and glides on some groomed trails (a big thanks to the awesome nordic club in Pagosa Springs for posting great info and keeping trails groomed) and attempted our first weak telly turns.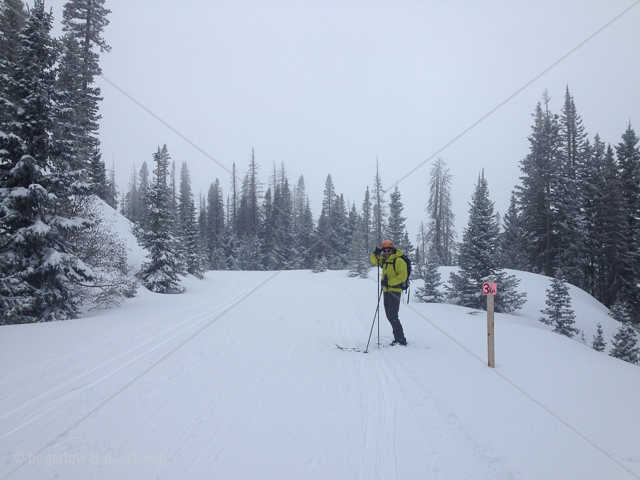 Unfortunately, not all the gear survived the weekend. The pin holes on one of the Scarpa boots ripped out.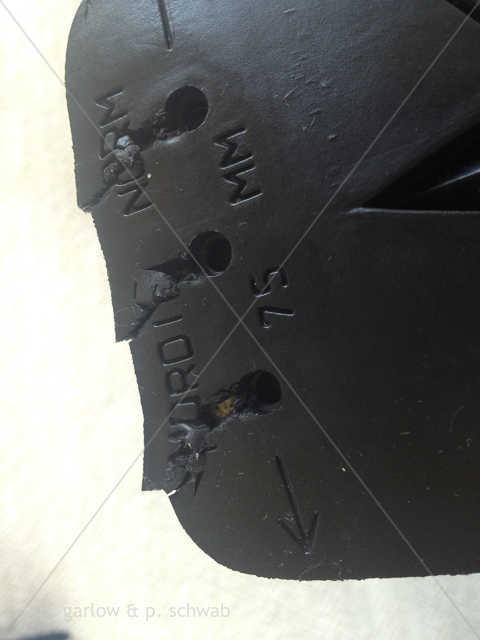 I suspect the T4s are just too thick and wide at the toe to seat well over the pins as it was always a struggle to get the toe bails latched. I did not have the removable cables on hand as backup because the first set of cables that shipped were trimmed too short to reach around the big plastic boots. So, unfortunately, we had to cut short our last ski day just when things were getting really fun, but fortunately, I'm able to swap out the failed boots for a new pair. We've already ordered new bindings too, not wanting a repeat fail. This time we're both going for the Voile pin-less Switchback telemark binding. Hopefully this will be a match made in heaven. I'm already looking forward to some long ski tours along the Cumbres Pass. Hopefully, once I get my legs under me, I'll be able to ski with my fully loaded overnight pack for true ski in/ski out convenience.