After another long absence, I'm finally back with a brief and belated trip report. If you recall, a week or so ago, we had one of those precious three day weekend holidays. Our goal was to use the long weekend to peak one of the local-ish high points that we haven't tackled because it requires too long a drive, or too long an approach, to do in a standard weekend. The planned itinerary was to peak North Truchas and Chimayosos Peaks via the middle fork of the Rio Santa Barbara. Unfortunately, the weather reports for the weekend were forecasting doom and gloom – a 70% chance of monsoon storms for Saturday night. We hemmed and hawed a bit, but finally decided to abide the lightning threat and stay in the lowlands Saturday night. Our last minute alternate plan was to enjoy a leisurely drive north through Las Vegas and Mora, camp along one of the accommodating FS roads, backpack to Serpent Lake Sunday, and if the weather cooperated, peak Jicarita, from which we should at least have a rather fine view of the Truchas Peaks.
It ended up being a great weekend. We found a lovely spot to park: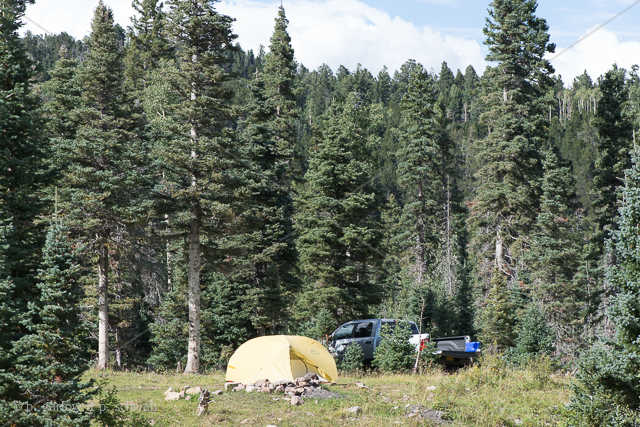 By the way, you'll notice bionic Subie isn't in the photo. Don't worry, our beloved billy goat is still with us, however, we have implemented Phase 1 of the go-anywhere mobile office/sleeping rig: the Ram 2500 turbo diesel. Phase 2 involves travelling to Denver next month to order a Four Wheel Camper slide in camper shell. Phase 3 will be installing and building out the shell. We'll keep you posted.
Anyway, back to the weekend: the trek up to Serpent Lake and Jicarita was fairly relaxed. Despite some threatening herds of clouds, the weather cooperated, and we were able to take our time on the Santa Barbara Divide. As predicted, the view from Jicarita was awesome – the sky was clear enough that we could see most of the other high peaks in the vicinity. Hopefully I'll be able to explore the rest of the Santa Barbara Divide soon. I'd still like to make a stab at North Truchas, however, in the meantime, please enjoy this trip description by means of photo gallery: